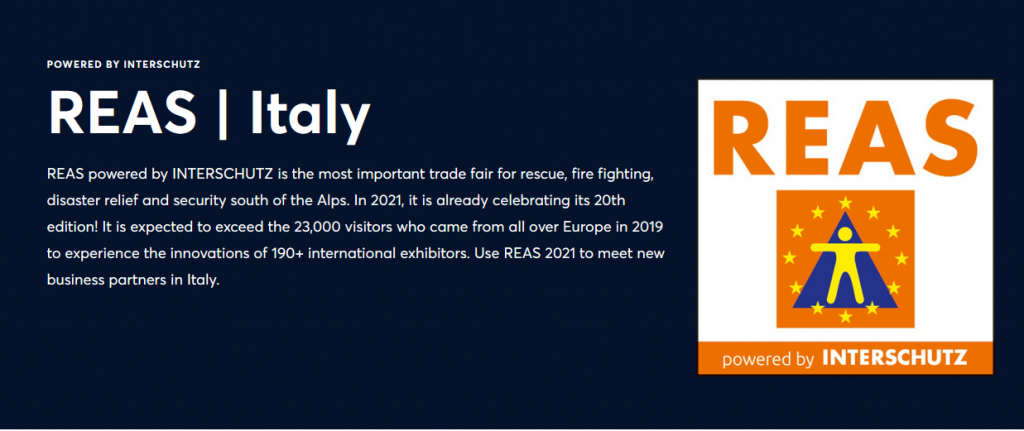 Be-Ge Seating A/S is ready for visitors at REAS in Italy,
8-10 October 2021
Italy has for long been a point of interest for Be-Ge Seating A/S. In 2019 we visited the REAS fair as guests ourselves and saw that we needed to come back – as exhibitors. Earlier this year we have established a corporation with Mr. Andrea Bigi at Modouno in Italy, and to kick start our new focus on the Italian market, we are attending the REAS fair as exhibitors this year.
"REAS powered by INTERSCHUTZ is the most important trade fair for rescue, firefighting, disaster relief and security south of the Alps", as they put it themselves on their website : https://www.interschutz.de/en/about-us/interschutz-events-worldwide/reas-powered-by-interschutz/.
We have strong beliefs that there is a great potential for our JANY products in Italy. We are very happy to have Mr. Andrea Bigi helping us putting a large Italian spotlight on our products and also to participate as exhibitors on this fair together with Erik Lodahl, General manager at Be-Ge Seating A/S and Stefan Black, Area Sales Manager at Be-Ge Seating A/S.
The REAS fair is open from October 8-10 and you'll find our stand at Hall 8 – Stand B19. Please drop by, if you should happen to be nearby.