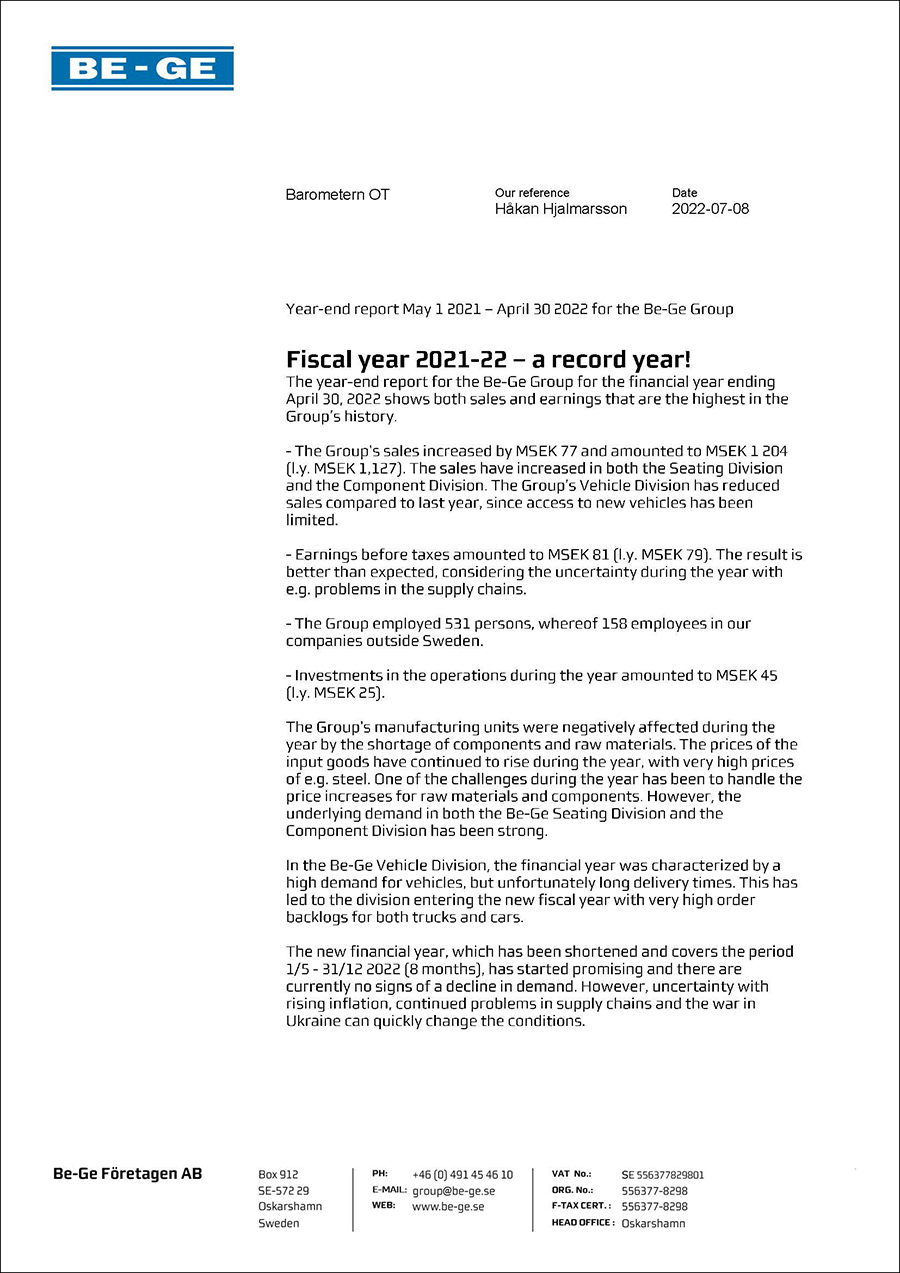 The year-end report for the Be-Ge Group for the financial year ending April 30, 2022 shows both sales and earnings that are the highest in the Group's history.
The Group's sales increased by MSEK 77 and amounted to MSEK 1 204 (l.y. MSEK 1,127). The sales have increased in both the Seating Division and the Component Division. The Group's Vehicle Division has reduced sales compared to last year, since acess to new vehicles has been limited.
Earnings before taxes amounted to MSEK 81 (l.y. MSEK 79). The result is better than expected, considering the uncertainty during the year with e.g. problems in the supply chains.
The Group employed 531 persons, whereof 158 employees in our companies outside Sweden.
Investments in the operations during the year amounted to MSEK 45 (l.y. MSEK 25).
The Group's manufacturing units were negatively affected during the year by the shortage of components and raw materials. The prices of the input goods have continued to rise during the year, with very high prices of e.g. steel. One of the challenges during the year has been to handle the price increases for raw materials and components. However, the underlying demand in both the Be-Ge Seating Division and the Component Division has been strong.
In the Be-Ge Vehicle Division, the financial year was characterized by a high demand for vehicles, but unfortunatly long delivery times. This has led to the division entering the new fiscal year with very high order backlogs for both trucks and cars.
The new financial year, which has been shortened and covers the period 1/5 – 31/12 2022 (8 months), has started promising and there are currently no signs of a decline in demand. However, uncertainty with rising inflation, continued problems in supply chains and war in Ukraine can quickly change the conditions.
The CEO of Be-Ge Företagen AB Håkan Hjalmarsson comments:
""Despite a shortage of components, long delivery times and sharp price increases for raw materials, the Group delivers a very good result. That the underlying demand has been good is one explanation. An equally important explanation is, of course, the Group's employees. It has been a turbulent year, were the planning of the production has been challenging. Without our emplyees' flexibility and loyalty to meet there challenges the companies within the Group could not have handled the situation.
Be-Ge have a strong belief in continued succes for the Group during the year it was decided on investments in the truck operations in Vetlanda and an expansion of the premises at Be-Ge Plåtindsutri AB in Oskarshamn. A new automated fibre laser will also be installed here during the autumn, the first of its kind in Sweden.
With a strong result for FY 2021-22 and continued good demand, Be-Ge is entering the new financial year convinced that the development for the Group will continue to be positive.""