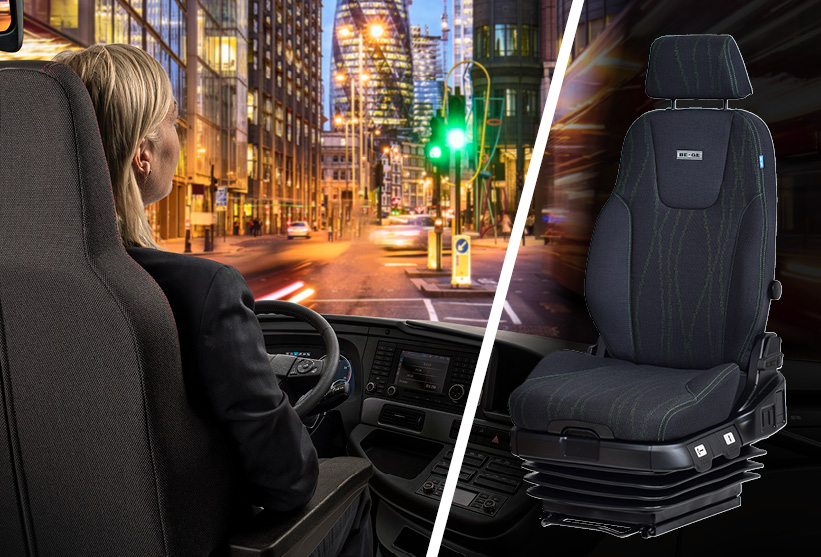 Elevating Comfort and Safety:
The Unsung Heroes of Bus Travel – Bus Driver Seats
In the bustling world of public transport, where an average city bus racks up on average 35,600 miles (57.000 km) annually, the city of London stands as a testament, carrying a staggering 6.5 million passengers daily via its fleet of 8,600 buses serving 19,000 bus stops*. Amidst this bustling chaos, it's easy to overlook a crucial component of a bus driver's workplace – the bus driver seat.
Navigating through congested traffic, enduring frequent stops and starts, and making continuous body adjustments to handle the complexity of city driving can undoubtedly take a toll on bus drivers. Yet, one often underestimated factor in their work environment is the very seat upon which they rely.
In the modern era of public transportation, an ergonomic, robust, and fully adjustable driver seat is no longer a luxury but a necessity. Be-Ge, a pioneer in this field, with more than 70 years' experience in developing and manufacturing driver seats. Be-Ge driver seats are known for their exceptional qualities: strength, durability, safety, and above all, unparalleled comfort in the bus industry.
Be-Ge provides both suspended and non-suspended driver seats. Standard features on our non-suspended Be-Ge 3400 Series Seat are 130 mm height adjustment, 210 mm slide adjustment, Quick release backrest adjustment, mechanical lumbar support, adjustable seat cushion.
Optional extras include armrests, electrical heating, 2- or 3-point seatbelt, belt buckle switch for seat belt warning, Airvent, rotation via turntable and a variety of height adaptors.
*Source: Wikipedia.